GenStar产品第二季度文献数据精彩推出。根据知了窝平台统计数据,本期特别奉送2023年第二季度文献统计:
GenStar产品涉及163个;共有133篇SCI文章,其中IF>5的文章72篇,本季度IF值最高达39.3。qPCR系列产品当仁不让依然是发表文章最多,应用最广的明星系列产品,其发表文献占62%。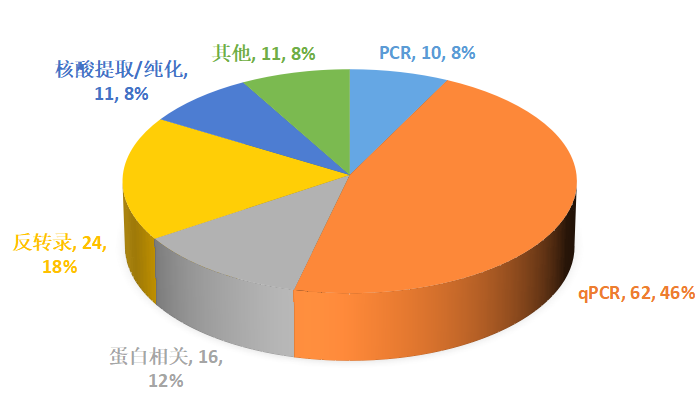 第二季度的文章发表火热依旧,这离不开各位科研工作者对本司产品的支持和厚爱,我们会继续为大家提供更优质的产品与服务。下面是对使用GenStar品牌发表的2023年第二季度文献整理,本文摘录了部分文献,完整版可在关注文末GenStar公众号查看。
一、qPCR系列产品
1. Qiannan Wang, Yanan Xu, Shuangshuang Zhao, et al. Activation of actin-depolymerizing factor by CDPK16-mediated phosphorylation promotes actin turnover in Arabidopsis pollen tubes. Plos Biology. 2023.Apr. IF=9.8
2. Mingjie Sun, Yu Li, Songtao Su,et al. Tussilagone ameliorates high-fat diet-induced hepatic steatosis by enhancing energy metabolism and antioxidant activity. Phytotherapy Research. 2023.Apr. IF=7.2
3. Zhu Zhiguo, Luo Menglin, Li Jialing,et al. Comparative transcriptome analysis reveals the function of SlPRE2 in multiple phytohormones biosynthesis, signal transduction and stomatal development in tomato. Plant Cell Reports. 2023.Apr. IF=6.2
4. Yuhan Meng, Weili Li, Chenxing Hu,et al. Ginsenoside F1 administration promotes UCP1-dependent fat browning and ameliorates obesity-associated insulin resistance. Food Science And Human Wellness. 2023.Apr. IF=7
5. Mingxing Zhang, Ranran Zhao, Kai Huang,et al. OsWRKY76 positively regulates drought stress via OsbHLH148-mediated jasmonate signaling in rice. Frontiers In Plant Science. 2023.Apr. IF=5.6
二、PCR系列产品
PCR Mix,DNA Polymerase,etc.
1. Chen Bo, Zhang Haoyang, Wang Hanhong,et al. Development and application of a dual ERA method for the detection of Feline Calicivirus and Feline Herpesvirus Type I. Virology Journal. 2023.Apr. IF=4.8
2. Hongxian Song, Ziyang Liu, Hanwen Cui,et al. Contrasting influences of two dominant plants, Dasiphora fruticosa and Ligularia virguarea, on aboveground and belowground communities in an alpine meadow. Frontiers In Microbiology. 2023.Apr. IF=5.2
3. Jianqing Niu, Qiong Chen, Xiaonan Lu,et al. Fine mapping and identifying candidate gene of Y underlying yellow peel in Cucurbita pepo. Frontiers In Plant Science. 2023.Apr. IF=5.6
4. Chunxia Zhang, Jing Guo, Lucía Saveanu,et al. Invasiveness of Pomacea canaliculata: The Differences in Life History Traits of Snail Populations from Invaded and Native Areas. Agronomy-Basel. 2023.Apr. IF=3.7
5. Dwi Wijayanti, Yunyun Luo, Yangyang Bai,et al. New insight into copy number variations of goat SMAD2 gene and their associations with litter size and semen quality. Theriogenology. 2023.May. IF=2.8
三、反转录系列产品
Reverse Transcriptase,RT Kit,RT-PCR Kit etc.
1. Xinyue Wang, Jing Zhou, Zhaona Li,et al. A novel pyroptosis-related prognostic signature for lung adenocarcinoma: Identification and multi-angle verification. Frontiers In Genetics. 2023.Apr. IF=3.7
2. Fathalrhman Eisa Addoma Adam, Xueliang Zhao, Zhao Guan,et al. Simultaneous Expression of Chicken Granulocyte Monocyte Colony-Stimulating Factor and the Hemagglutinin-Neuraminidase Epitope of the Virulent Newcastle Disease Virus Genotype VII C22 Strain in a Functional Synthetic Recombinant Adenovirus as a Genotype-Matched Vaccine with Potential Antiviral Activity. Microbiology Spectrum. 2023.Apr. IF=3.7
3. Qing-Qing Shen, Tian-Ju Wang, Jun-Gang Wang,et al. The SsWRKY1 transcription factor of Saccharum spontaneum enhances drought tolerance in transgenic Arabidopsis thaliana and interacts with 21 potential proteins to regulate drought tolerance in S. spontaneum. Plant Physiology And Biochemistry. 2023.Apr. IF=6.5
4. Hongru Guo, Niya Jia, Huanwen Chen,et al. Preliminary Analysis of Transcriptome Response of Dioryctria sylvestrella (Lepidoptera: Pyralidae) Larvae Infected with Beauveria bassiana under Short-Term Starvation. Insects. 2023.Apr. IF=3
5. Shenglan Yuan, Yongjun Wu, Jing Jin,et al. Biocontrol Capabilities of Bacillus subtilis E11 against Aspergillus flavus In Vitro and for Dried Red Chili (Capsicum annuum L.). Toxins. 2023.Apr. IF=4.2
四、蛋白电泳&分析系列&蛋白纯化系列产品
Protein Marker,Western blot etc.
1. Xiaoying Xu, Huimei Hu, Haizhou Zeng,et al. Sinisan ameliorates colonic injury induced by water immersion restraint stress by enhancing intestinal barrier function and the gut microbiota structure. Pharmaceutical Biology. 2023.Apr. IF=3.8
2. Qiang An, Rui-Men Zhang, Yao Wei,et al. CircRRAS2 promotes myogenic differentiation of bovine MuSCs and is a novel regulatory molecule of muscle development. Animal Biotechnology. 2023.Apr. IF=3.7
3. Chenxi Wu, Anqi Lyu, Shijun Shan,et al. Fulvic Acid Attenuates Atopic Dermatitis by Downregulating CCL17/22. Molecules. 2023.Apr. IF=4.6
4. Hongyu Rao, Weiwei Su, Xiaoli Zhang,et al. Hypericum japonicum extract inhibited porcine epidemic diarrhea virus in vitro and in vivo. Frontiers In Pharmacology. 2023.Apr. IF=5.6
5. Tingben Huang, Yuchen Wang, Zhou Yu,et al. Effect of Mitophagy in the Formation of Osteomorphs Derived from Osteoclasts. Iscience. 2023.Apr. IF=5.8
五、核酸提取/纯化系列产品
Gel Extraction Kit,Plasmid Miniprep Kit & genomic DNA kit etc.
1. Yingjie Guo, Lingxia Pan, Liding Wang,et al. Epstein-Barr Virus Envelope Glycoprotein gp110 Inhibits IKKi-Mediated Activation of NF-κB and Promotes the Degradation of β-Catenin. Microbiology Spectrum. 2023.Apr. IF=3.7
2. Liyan Deng, Wangchang Li, Weiwei Liu,et al. Integrative metabolomic and transcriptomic analysis reveals difference in glucose and lipid metabolism in the longissimus muscle of Luchuan and Duroc pigs. Frontiers In Genetics. 2023.Apr. IF=3.7
3. Min Liu, Feng Xiao, Jiayun Zhu,et al. Combined PacBio Iso-Seq and Illumina RNA-Seq Analysis of the Tuta absoluta (Meyrick) Transcriptome and Cytochrome P450 Genes. Insects. 2023.Apr. IF=3
4. Xin-Xin Xiong, Yang Liu, Li-Li Zhang,et al. G-Protein β-Subunit Gene TaGB1-B Enhances Drought and Salt Resistance in Wheat. International Journal Of Molecular Sciences. 2023.Apr. IF=5.6
5. Yue-Yue Zhou, You-Shao Wang, Cui-Ci Sun,et al. Molecular Cloning and Expression Analysis of the Typical Class III Chitinase Genes from Three Mangrove Species under Heavy Metal Stress. Plants-Basel. 2023.Apr. IF=4.5
六、其他系列产品
Cloning Kit,Transfection Reagent etc.
1. Luo Wei, Xu Guang, Song Zheng, et al. Licorice extract inhibits the cGAS-STING pathway and protects against non-alcoholic steatohepatitis. Frontiers In Pharmacology. 2023.Apr. IF=5.6
2. Zhu Qiong, Fu Yesheng, Cui Chun-Ping,et al. OTUB1 promotes osteoblastic bone formation through stabilizing FGFR2. Signal Transduction And Targeted Therapy. 2023.Apr. IF=39.3
3. Yuting Zhuo, Bo Fu, Ruizi Peng,et al. Aptamer-based expansion microscopy platform enables signal-amplified imaging of dendritic spines. Talanta. 2023.Apr. IF=6.1
4. Hankun Wang, Weijian Peng, Jialin Wang,et al. Human Cytomegalovirus UL23 Antagonizes the Antiviral Effect of Interferon-γ by Restraining the Expression of Specific IFN-Stimulated Genes. Viruses-Basel. 2023.Apr. IF=4.7
5. Wang Yujuan, Zhang Yuan, Guo Xinyu,et al. CCP5 and CCP6 retain CP110 and negatively regulate ciliogenesis.Bmc Biology. 2023.May. IF=5.4
可关注GenStar公众号
对话框输入"2023年第二季度文献"查看